New Show Coming in Late Summer/Early Fall
Between painting for the Austria show and The Music Distric commission, I have not held a general show for more than a year. I'm looking forward to creating my best one yet. Please friend me on FB or like my business FB page for an invite to the show.
Presenter at Loveland Startupweek's session "Art and Technology: The Divide is Imaginary" | April 2017
I was asked to present at Loveland Startupweek's session "Art and Technology: The Divide is Imaginary" on April 7, 2017. It was exciting to see some of the latest technology artists are using as we enter an entirely new Renaissance of art. However, the reason I was so passionate about it is because I am ALWAYS trying to encourage people to start painting or creating their own art, whatever that might be. To see what the session was like, check out the above video. And if you want to see how damned nervous Clint Eccher can get when he's put on the spot to remember a script and then speak on camera with 20 minutes of prep time, well this is your chance. Lol. Seriously, HUGE THANKS to Michelle Venus and KRFC 88.9fm for the great promotion for an inspiring purpose.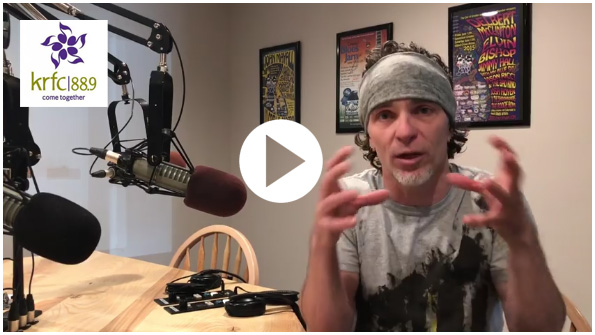 Tiered Painting Commission for The Music District | February 2017

"The Sound of Creation" is a 48"x60" commission painted for Philantropist Pat Stryker and The Music District. The painting represents the thoughts creating music and music creating thoughts in the Fort Collins music scene. It is the centerpiece at The Music District, which is a 5-building complex that serves as a dynamic gathering hub, workspace, and creative playground for the music community. The room in which the painting hangs is used for concerts of musicians from around the world.


Tiered Painting Exhibition at Opera House in Bregenz, Austria September 20-22, 2016

I was paid to show my Tiered Paintings September 20-22, 2016, in Bregenz, Austria, at LpS (LED professional Symposium) 2016. Unlike in the U.S., LED technology is extremely progressive and a priority in Europe, and LpS is Europe's foremost LED lighting technology event. The event was held at Bregenzer Festspiele, the opera house, which is home to the largest floating opera in the world. I painted 24 12"x12" paintings specifically for the show to demonstrate the various options that can be accomplished with Tiered Paintings. I appeared on several news stations in the area. Unfortunately, my hard drive crashed before I could make a video of the entire trip, which broke my heart. Still, the entire experience was amazing, something I will never forget or stop being grateful for. Following are photos of my paintings being represented on the marketing of the show; the opera stage being torn down; the space where I showed my pieces; Lindau, the German island I stayed on; screenshot of the news story; the Lindau lighthouse; and a photo of me with winner Nobel Prize Laureate Prof. Shuji Nakamura and LpS organizer Siegfried Luger.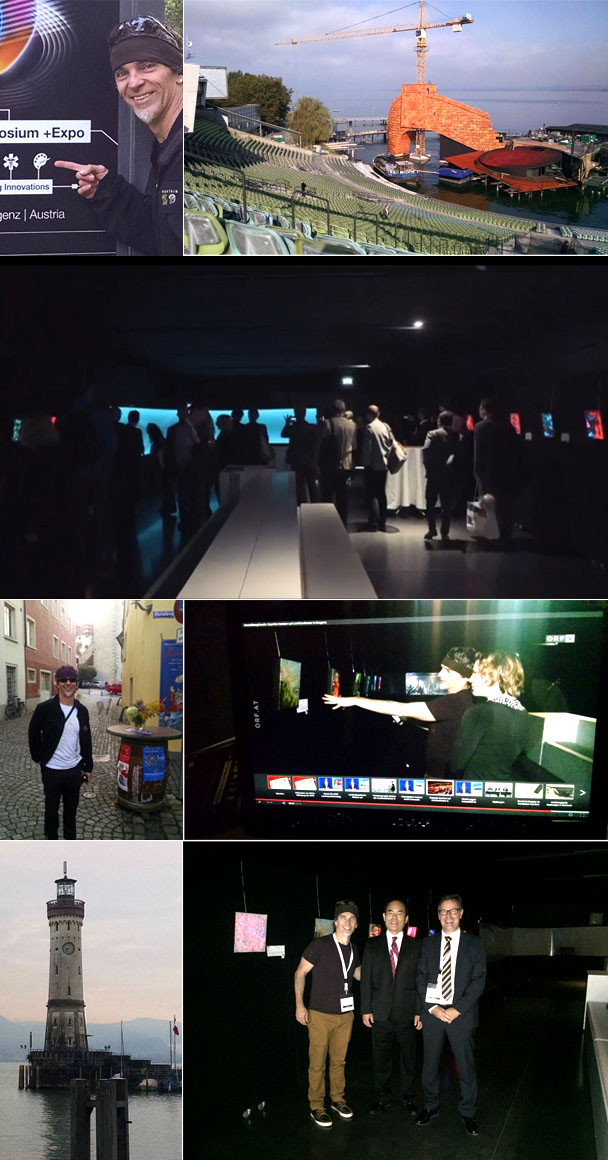 Following is a summary video of the symposium (my Tiered Paintings are 1:41 in the video)
Packed Gallery at Tiered Painting Premier on December 5, 2015

December 5, 2015, marked the first time I have ever showed my tiered paintings to the public. I received several comments on how the new method was "genius," which made my night. One woman even told me that she chose not to go to a show at the Lincoln Center with her husband, and that the work made her know undecidedly that she made the right decision. The highlight of the night, and possibly my career, however, came when I went to video the packed gallery to document and thanks those who attended, and instead they all clapped and applauded me. It was extremely meaningful and unexpected. It is now time to start promoting the work outside of my studio and Fort Collins.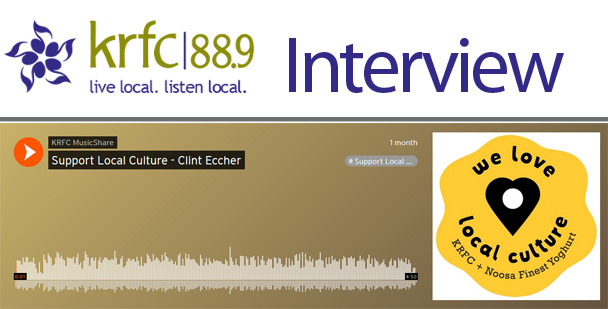 Spring Exhibition Titled "Vertical" Held April 1-5, 2015

Despite having large art events around town at the same time of the reception, three groups of artists, me being one of them, had 270 people attended our First Friday show. I sold several originals, giclees and watercolor prints. I can't thank those who attended enough. You all made it a high energy, memorable night. Thank you, thank you, thank you. At the same time the show was going on, I also sold an original bicycle print at Old Town Art & Framery, which made it an even better night.



Fire Sale Show at Whole Foods October 10, 2014

My annual Whole Foods Show on October 10, 2014, a big success. Because it was a rare show where I was showing pieces I've already show at lower prices, the turnout number was lower, but nearly everyone who came purchased at least one piece. I can't thank everyone for all the patronage.
Museum and Gallery Exhibitions August 1, 2014

I had two exhibitions, within two blocks of each other, during August and September:
Fort Collins Museum of Art's "Artistic Eye on History: Fort Collins 150"
I was fortunate enough to be selected as one of 15 local artists to have pieces included in the show. Six of the 22 pieces in the show, which was held from July 25 to September 28, were historical photos of Fort Collins I painted of the Old Town area. I ended up selling two pieces, which I was very grateful for.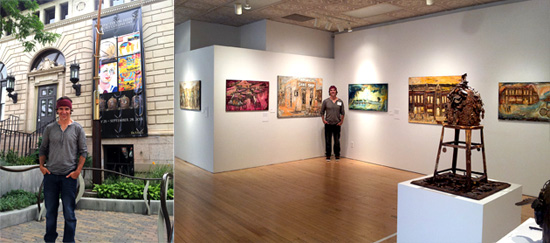 Old Town Art and Framery Exhibition
I showed more than 10 original paintings at the Friday, August 1, 2014, reception. During the reception, I gave away three prints.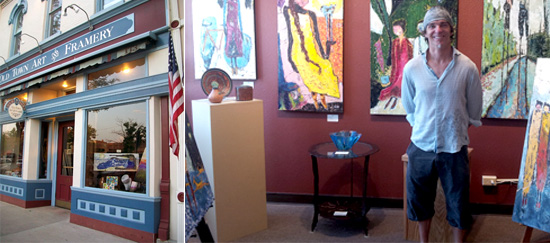 150 People Attend "Fields, Flows, and Jumps" Show

Following are a few notes about the show:
Free paintings were given away at reception
The show included 25 pieces, which comprise more than 75 paintings
Work included a series of flower fields; abstracts; and historic ski-jumping and downtown Denver scenes
Two pieces included 19 paintings created by preschoolers from Laura's Learn N Play, whom Clint teaches art to
Reproductions of paintings, including flower fields, bicycles and Old Town scenes, from February show were for sale
Food and drink was catered by Malini Bartels, a caterer/cooking instructor in Fort Collins with 11 years experience teaching a variety of cuisines at The Cupboard and Whole Foods Market
February 3-9 show a huge success

My February show at the Community Creative Center from February 3-9 was a great success. The show featured more than 30 original pieces. One of the highlights of my night was local gallery manager telling me it was the "most prolific and impressive one-man show" he had ever seen in Fort Collins. I am so grateful for everyone who made the show possible. Following is a video of the show. Clearly it was a community camera, and some people should not be allowed access to it. ;-)


Latest News
Clint Eccher Selected to judge
Artists Association of Northern Colorado's
November abstract show.
Four bicycle reproductions sold to Boulder Community Foothills Hospital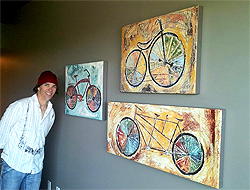 In the Media
LED Professional: Trends & Technologies for Future Lighting Solutions | October 24, 2016
LEDs Reveal Paintings Hidden in Paintings
LED World Mag: LEDs Help Reveal Paintings, Hidden in Paintings | April/May 2016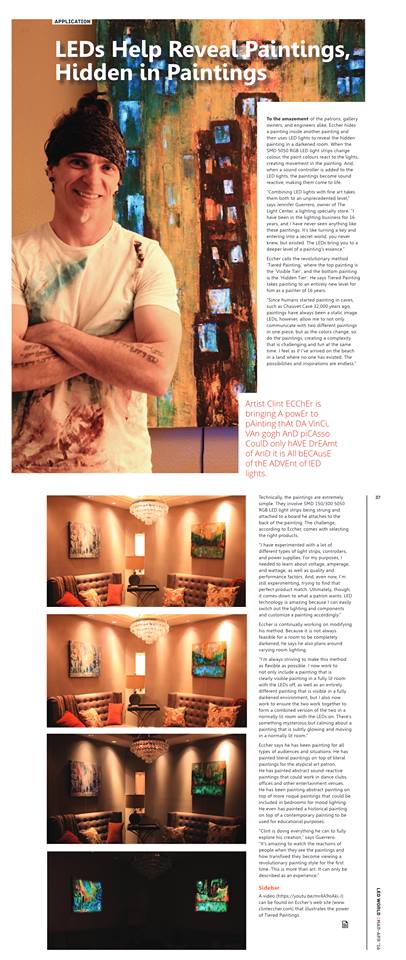 The Coloradoan | July 29, 2014
Faces, places of Fort Collins inspire art on display now
The Coloradoan | July 22, 2014
Hot Ticket: FCMoA's 'Artistic Eye on History' exhibit
The Coloradoan | June 27, 2014
How to interact with an artist on Studio Tour
The Coloradoan | Feb. 2, 2014
Today's Ticket: 'Bicycles, Old Town and Other Clint Eccher Art' exhibition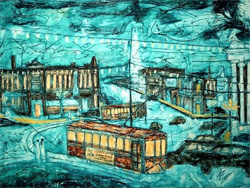 Galleries and Stores
I currently have pieces at:
Old Town Art and Framery
Art Source International
Alpine Arts
Museum of Discovery
Chimney Park Bistro
Hearth
Middle-of-Winter Thank You!
I would like to thank everyone who attended my February show. I am so grateful. I will take 150 friends, family, and new faces on a cold February night any day of the year.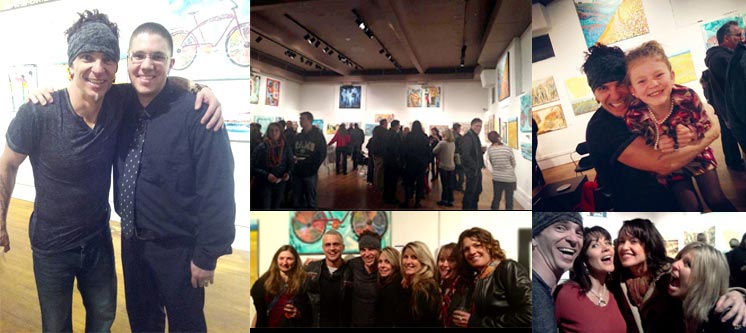 Honorable Mention at "No Place Like Home" Show
I was extremely grateful that "6,000 Sunflowers" received honorable mention at The Lincoln Center's juried "No Place Like Home" show, which included pieces from artists throughout Colorado. Only 1/5th of the submitted paintings were selected. My other piece, "New Pioneers," was the first to sell, going for $1,800.